Professional Form Creator
Create powerful website forms easily in just a few minutes
Build your website forms quickly without learning new programming skills. Use our form creation tool to build professional forms with very little effort.
Comes with a bundle of pre-built forms ready to use
We are working on a new form creator with more advanced features and styles. You will be entitled to an upgrade when released.
Features
Single License
Unlimited License
5 Pack License
Perpetual License
Spam Prevention Technology
Form Source-Code Supplied
Number of Form Submissions
Unlimited
Unlimited
Unlimited
Number of Fields
Unlimited
Unlimited
Unlimited
Number of Forms
Unlimited
Unlimited
Unlimited
Support Level (within 30 days)
Standard
Priority
Raised
Upgrades Included (in months)
12
24
18
Number of Websites Licensed
1
Unlimited
5

Pay with:

Credit Card
Bank Card
Paypal
License and Download
Once you purchase your license, you will receive an email (to your registered Paypal email address) with your account details.
The Single Website license entitles you to use - on a single website domain.
The Five Website license entitles you to use - on any five website domains.
The Unlimited Website license entitles you to use - on an unlimited number of websites you develop for yourself or your customers.
All licenses are perpetual, this means you can use it forever and only pay once!
What's included
Your license includes the following:
Bundle of pre-built forms
Access to our unique online form creator application - where you can create an unlimited number of forms
Full source code (HTML, JavaScript, CSS, and PHP) - tweak the code if you want
Save your forms in the creator for later download or editing
Run an unlimited number of contact forms on your licensed website(s)
General Data Protection Regulation (GDPR)
GDPR is the most important change in data regulation in 20 years and applies in the EU from 25 May 2018, you can read more about it at eugdpr.org. Also, have a look at our FAQs for more information.
We do not host your forms, process your data, or store your data. We provide you with source code to host and manage on your own, therefore you can be 100% sure exactly what is happening with your customers form submissions.
Form creator usage
The form creator is a powerful online application that allows you to define your form settings (form title, email to, automated spam-prevention usage, in addition to some others). When it comes to adding your forms fields, you would define the properties (field type, name, size, label, and if they should be mandatory or not).
As you create your form, it will save automatically to allow for future changes. You can download your forms source-code at any point.
Screenshots of the form creator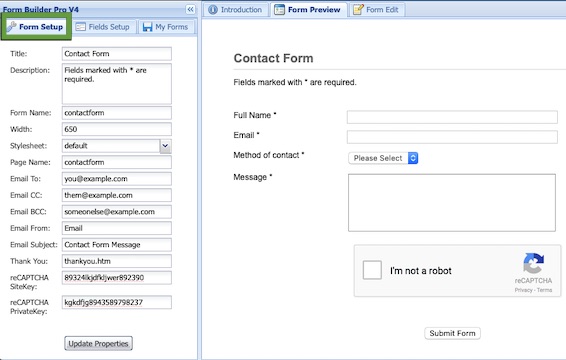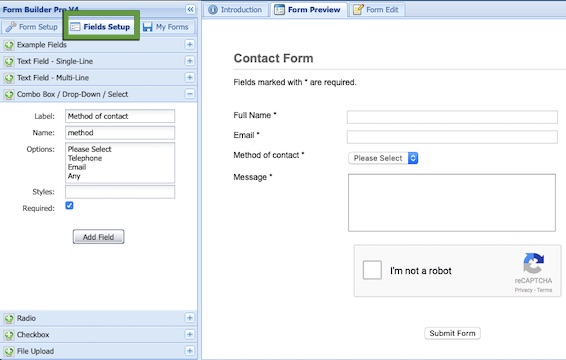 Overview of the screen
On the left panel, there are three tabs
Form setup - configure the form properties
Field setup - add and configure form fields
My forms - access to saved forms
On the right panel, there are three tabs
Introduction - overview of the form creator and download option
Form preview - a live preview of your form
Form edit - reorder or delete form fields
System requirements
In order to run the forms on your website, you need the following:
Website hosting with PHP support
Supported Form Field Types
Full support for all standard form fields types, including:
Single-line text
Multi-line text
Combo/select box (or drop-down)
Single radio and radio groups
Checkbox and checkbox group
File attachment/File upload
You can set validation on any fields you like. This means that you force your visitors to complete the fields you want them to.